I'll admit it– I'm a drama addict.
I love to read all the Internet drama and shenanigans that go on around the Internet (hello, Cracker Barrel and Brad's wife was the funniest thing to happen in March) and I love to see the carefully curated screenshots that go along with the drama. However, I don't like to participate in it and I hate when things are based off of rumors. Don't get me wrong, I don't run on facts like a little robot girl– I have feelings and pathos appeals to me just like any normal human– but I hate when all you have to go by is rumors.
But guess what, friends. Rumors are what makes the military float. Every day it's been something new; "we're coming home in month A", "just kidding, they've decided to push it back to month B", or (my personal favorite), "they said they're going to keep us past our orders and have us come home four months later in month C".
I know, I know, never plan around the military; that's a lesson I've learned all too well these past 8 months. I've had a crash-course in planning to plan again. At this point, I could teach a master class on preparing for one thing just to have another happen. I have no idea when Adam will be home and I've resigned myself to that fact. Like I keep telling him, it is what it is at this point and I have to be okay with it because there's no other choice. I mean, where does getting upset get me? Hint: the answer is nowhere.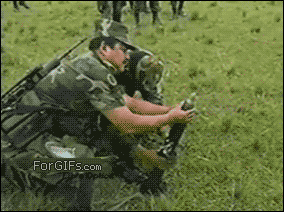 There is one thing I've noticed– the actual lack of information. I know that they're given orders and (most of the time?) those orders have a date when they're coming home. But, as I've just so recently found out, those orders can be extended. How often are orders extended? Is this something that's common and you can always look forward to or is it rare? I've tried googling the answer to this question but, alas, to no avail (but if you know the answer, please tell me. It's not so much that I need the information but more-so I'm just curious).
But wait, my friends, there's more. Adam and company do not have new orders in hand about extensions. That's right, there's rumors heavily circulating around that they won't be coming home when they were supposed to but yet there's no official word that they aren't. Wouldn't you think they would get on that soon? I mean, there's not exactly a whole lot of time left until they should be preparing to come home. Only one person has officially been given orders but he's the last one to leave for continuity sake when the next group comes over.
I understand the logistics of moving thousands of people at once can be difficult, I really do. But wouldn't you think someone somewhere would want to make a concrete decision about something somewhere? I guess the answer is no.
Adam and I are trying to plan our whole lives around this deployment and when he comes home. I'm currently looking to relocate closer to where he's stationed when he's not deployed because, more than likely, when he leaves the military to transition into the civilian world with all us plebs, he will be working out of the same city his current base is. In the long run, it makes more sense for me to be there as well so we don't have to spend so much money on car upkeep and gas for long commutes (oh, did I mention that my city and his city are an hour and a half apart and the only housing options in the middle is farmland?).
However, I don't want to move to an army-run city by myself where I have no friends and no support system. I mean, I'm currently living the dream. I live with my parents, I pay no rent and no grocery bills, all I pay for is my car upkeep and insurance and when I go out or shopping. If I move, I have to take on more responsibility– more responsibility than I've ever had. And, I could be doing it all alone for an indeterminate amount of time.
I don't want to live in a high-crime city all alone with few friends and my family an hour away. It sounds terrible. Of course, one of my best friends lives in the same city since he's stationed at the same base as Adam but he has his own career, own trainings to attend and his own friends to hang out with. I'm sure if I asked he'd come over all the time; but, do I really want to ask and take him away from his friends?
Nah.
Of course, there are apps like BumbleBFF but I don't really want to take the chance of the wrong person seeing my profile and thinking I'm on it for dating purposes. Or, I might get catfished and killed– there is no in-between in my mind.
The point of this is that I'm running on rumors right now and rumors get you nowhere. Remember when people thought Y2K was going to happen and they pulled all their money out, bought freeze-dried food to last a lifetime and built bomb shelters in their backyards? Obviously you can't believe every rumor that circulates because then you wind up looking like a serial killer with a ton of freeze-dried food, no money and your family shoved in a tiny lockable space.
I'm trying to make huge life changes based on rumors. Will he come home in three months? If he does, then living alone won't be so bad. Will he come home in five months? Maybe, but I can't count on that either. Could I afford to keep up an apartment by myself for that long? I don't know. I also don't know how well I would do living alone for five months. Maybe he'll come home in seven months. I for sure cannot live seven months alone with no friends and no family. It will literally be me going to work and coming home and that would be a miserable experience. But, if I move now, everything will be settled and ready for when he comes home.
But no one knows when that is.